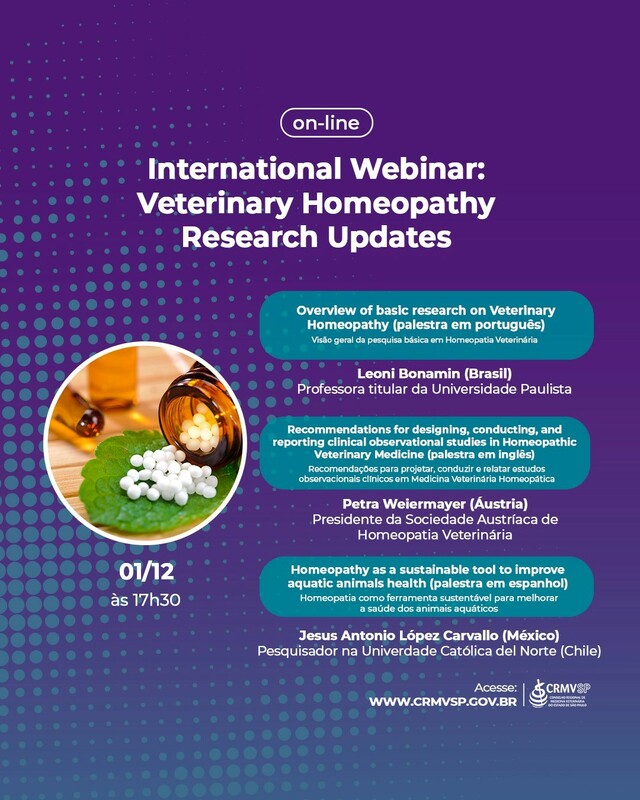 International Webinar: Veterinary Homeopathy Research Updates
Sales until 01/12/2023
Event description
The Regional Council of Veterinary Medicine of the State of São Paulo (CRMV-SP) will promote the International Webinar: Veterinary Homeopathy Research Updates on December 1st at 5:30 p.m. The target audience of the webinar includes veterinarians, zootechnicians and undergraduate students. Open for registrations.
Program Schedule:
5:30 p.m. – Overview of basic research on Veterinary Homeopathy, Prof. Leoni Bonamin, Unip (Brazil).
6:10 p.m. – Questions and answers (Q&A).
6:20 p.m. – Recommendations for designing, conducting, and reporting clinical observational studies in Homeopathic Veterinary Medicine, Petra Weiermayer, President of the Austrian Society for Homeopathic Medicine (Austria).
6:50 p.m. – Homeopathy as a sustainable tool to improve aquatic animal's health, Prof. Jesus Antonio López Carvallo, researcher at the Univerdidade Católica del Norte (Chile).
7:40 p.m. – Debate
8:00 p.m. – Closing event
Participants will receive a certificate by e-mail.