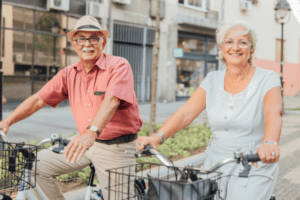 LIVING WELL IN LATER LIFE
Everyone deserves to be happy and healthy in later life. However, the ageing process isn't easy for many people; it can bring physical, mental and emotional challenges.
Undoubtedly, you want your patients, clients and loved ones to remain healthy and live life to the full as they get older. However, it can be easy to lose sight of how to keep them well when age doesn't come alone!


Whereas mainstream healthcare only tends to focus on managing illness, it's the combination of conventional, lifestyle and holistic approaches that brings our attention back to 'wellness'.

Integrative Medicine is an empowered model of healthcare that offers diversity and choice. Over the last eight years, NCIM has supported thousands of healthcare professionals and patients to embrace wellness, resilience and whole person health.


Join us at this one day online Forum to explore what it means to age well, what we can learn from our elders, and finally, whether we're ready for our own old age or that of our loved ones.


REGISTER TODAY to be inspired by a wide range of experts and innovators, broaden your understanding of Integrative Medicine, and apply your newly acquired knowledge at work and at home!
To download the flyer click here
To register click here
Faculty members are entitled to the following rate using the discount coupon:
IHF10
£45 for the day or £22.50 for half day