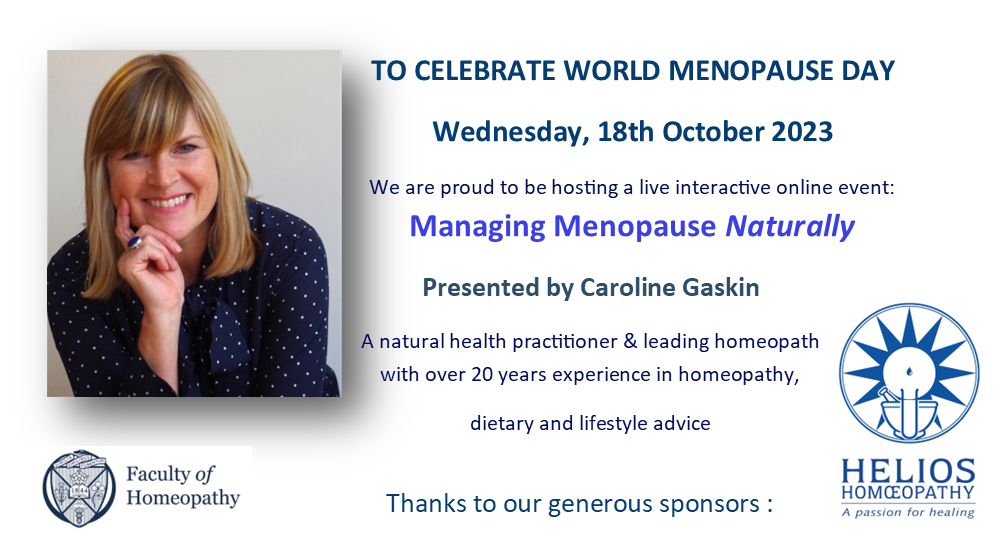 TO CELEBRATE WORLD MENOPAUSE DAY
Managing Menopause Naturally
14.30 - 16.00 hours (BST)/15.30 - 17.00 hours (CEST)
How we are now
There are over 34 symptoms now associated with menopause from aches & pains & anxieties to vaginal dryness. As a homeopath & holistic health coach, I've seen a huge change in the last 25 years - we've gone from a time in a woman's life that barely got press, to a topic of hourly Instagram posts, prime-time TV focus & interviews at a Government policy level. Partly this is due to some great movers and shakers who are working hard to raise awareness and create support for women suffering adverse symptoms, but it's also due to our, now, massively compromised endocrine (hormonal) systems shouting out for solutions.
And why might this be?
In this masterclass, you can expect to unravel some of those mysteries, understand the problem and garner some useful tools for your menopause cases.
The aim is to focus on affordable and easy-to-access solutions that you can share with your clients. We are homeopaths but, these days, nothing if not also, educators.
Each week in practice I hear new symptoms associated with menopause, way beyond what I was taught 25 years ago – most recently Burning Mouth Syndrome – did you know that this is now listed amongst menopausal symptoms? Symptoms like this can cause unprecedented and continual stress.
If we, in the West, talk to Nomadic tribeswomen about menopause they laugh. They do not experience the myriad of issues that we do.
What have we done differently?
The state we are in now is a fast-changing one.
How did we get to where we are now?
Women are likely to have to make some changes. This is not called 'The Change' for nothing.
This session will help you identify the many symptoms of menopause, both the obvious ones and the less acknowledged ones and provide a tool kit for survival.
Peri-menopause
The signs for this stage are showing up in ever younger women. This section is about what to look about for, how to prescribe and what to offer as adjunctive advice.
Menopause
Do you know what true menopause is? What symptoms are associated with it and how can we help?
Post menopause
Some women suffer for the rest of their life after the cessation of menses. Statistically, one-third of a woman's working life is beyond menopause. What needs to be looked after?
Caroline Gaskin MCPH, Hormonal health expert, Homeopath, and Holistic Health coach will be available live to answer your questions following her presentation.
REGISTER NOW TO SECURE YOUR PLACE
FACULTY MEMBERS AND NON-MEMBERS WELCOME.
Members £7.50
Non-members £20