Simile Editorial Team
Members can read FULL editions digitally by clicking on the relevant links below.
Non-members can read a selection of articles as a taster of this member publication - please click on links which do not specify 'members only' to access.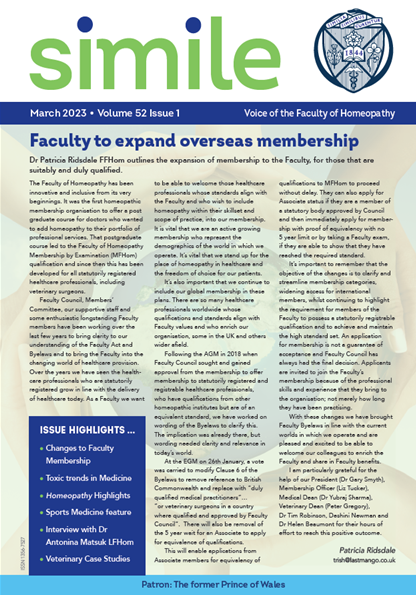 Faculty to expand overseas membership

The Faculty of Homeopathy has been innovative and inclusive from its very beginnings. It was the first homeopathic membership organisation to offer a post graduate course for doctors who wanted to add homeopathy to their portfolio of professional services. That postgraduate course led to the Faculty of Homeopathy Membership by Examination (MFHom) qualification and since then this has been developed for all statutorily registered healthcare professionals, including veterinary surgeons.

Faculty Council, Members' Committee, our supportive staff and some enthusiastic longstanding Faculty members have been working over the last few years to bring clarity to our understanding of the Faculty Act and Byelaws and to bring the Faculty into the changing world of healthcare provision. Over the years we have seen the healthcare professionals who are statutorily registered grow in line with the delivery of healthcare today. As a Faculty we want to be able to welcome those healthcare professionals whose standards align with the Faculty and who wish to include homeopathy within their skillset and scope of practice, into our membership. It is vital that we are an active growing membership who represent the demographics of the world in which we operate. It's vital that we stand up for the place of homeopathy in healthcare and the freedom of choice for our patients.

It's also important that we continue to include our global membership in these plans. There are so many healthcare professionals worldwide whose qualifications and standards align with Faculty values and who enrich our organisation, some in the UK and others wider afield.
Steven Kayne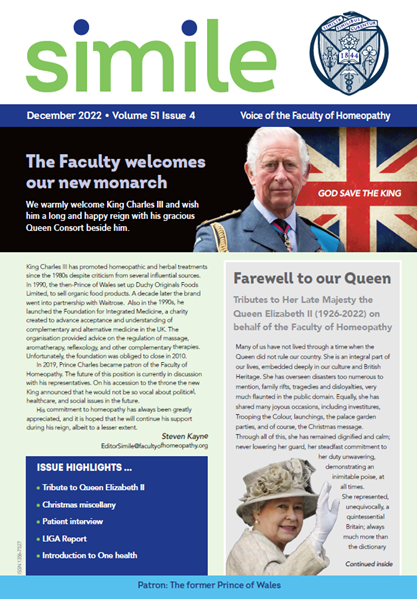 The Faculty welcomes our new monarch
We warmly welcome King Charles III and wish him a long and happy reign with his gracious Queen Consort beside him.
King Charles III has promoted homeopathic and herbal treatments since the 1980s despite criticism from several influential sources. In 1990, the then-Prince of Wales set up Duchy Originals Foods Limited, to sell organic food products. A decade later the brand went into partnership with Waitrose. Also in the 1990s, he launched the Foundation for Integrated Medicine, a charity created to advance acceptance and understanding of complementary and alternative medicine in the UK. The organisation provided advice on the regulation of massage, aromatherapy, reflexology, and other complementary therapies. Unfortunately, the foundation was obliged to close in 2010.
In 2019, Prince Charles became patron of the Faculty of Homeopathy. The future of this position is currently in discussion with his representatives. On his accession to the throne the new King announced that he would not be so vocal about political, healthcare, and social issues in the future.
His commitment to homeopathy has always been greatly appreciated, and it is hoped that he will continue his support during his reign, albeit to a lesser extent.

Steven Kayne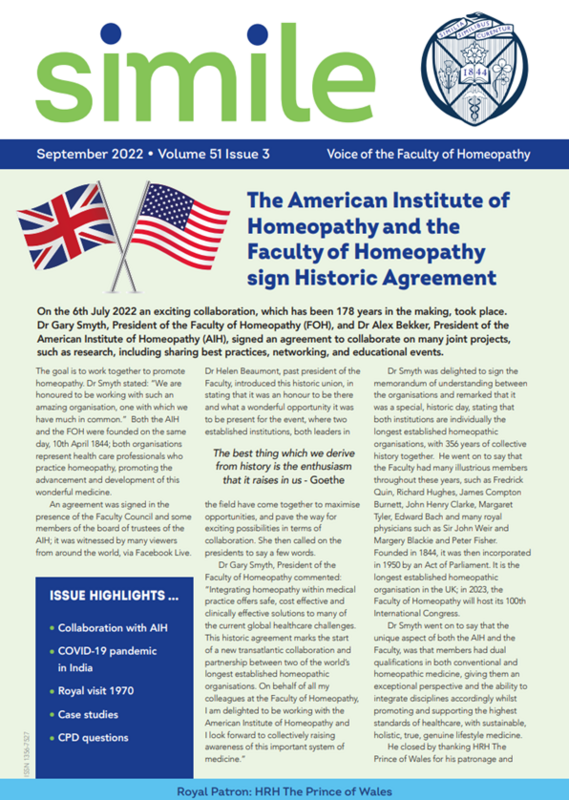 On the 6th July 2022 an exciting collaboration, which has been 178 years in the making, took place. Dr Gary Smyth, President of the Faculty of Homeopathy (FOH), and Dr Alex Bekker, President of the American Institute of Homeopathy (AIH), signed an agreement to collaborate on many joint projects, such as research, including sharing best practices, networking, and educational events.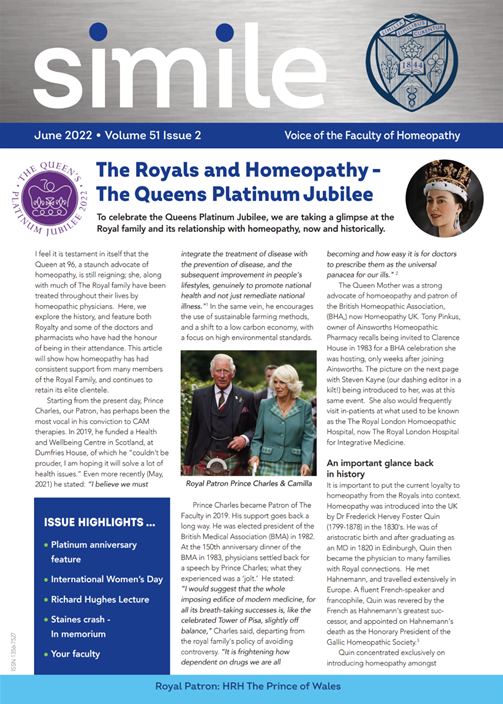 This is the celebratory issue for the Platinum Jubilee. There is a fascinating article on the Royals and some fantastic cases on a Royal theme. Also, in this issue Is a reflection on the events of the tragic Staines air crash 50 years ago and a tribute to those who lost their lives.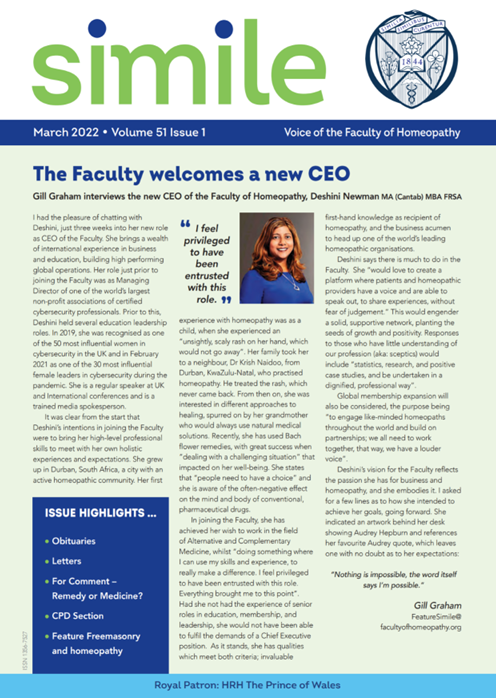 Case Studies
Feature
Homeopathic supporters
Meeting Reports
Comment
CPD
Feature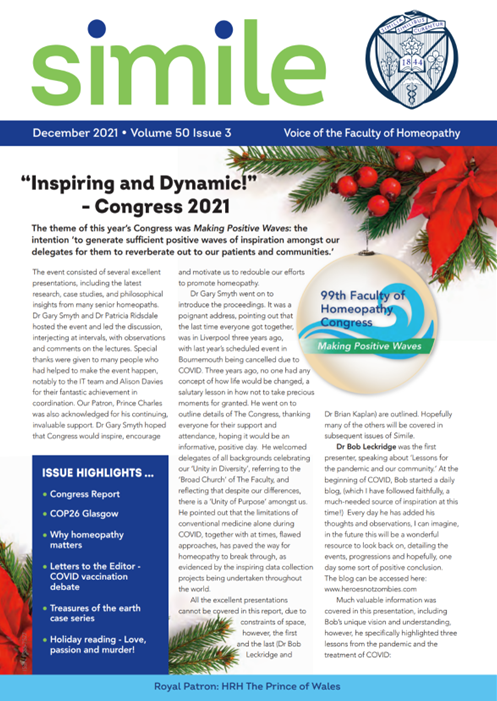 News
Feature
Zoom Report
Case Series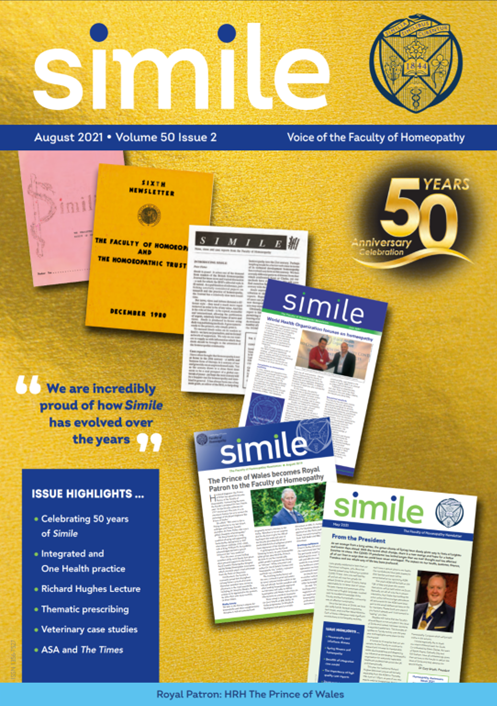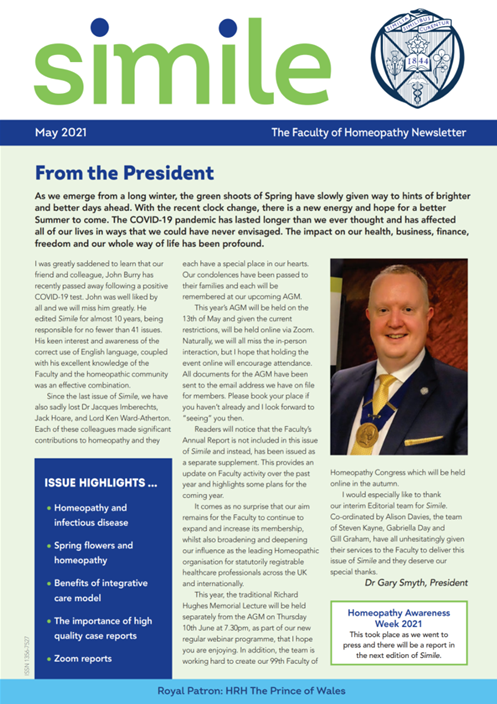 ARCHIVED EDITIONS OF SIMILE 2007-2020
CAN BE DOWNLOADED BELOW