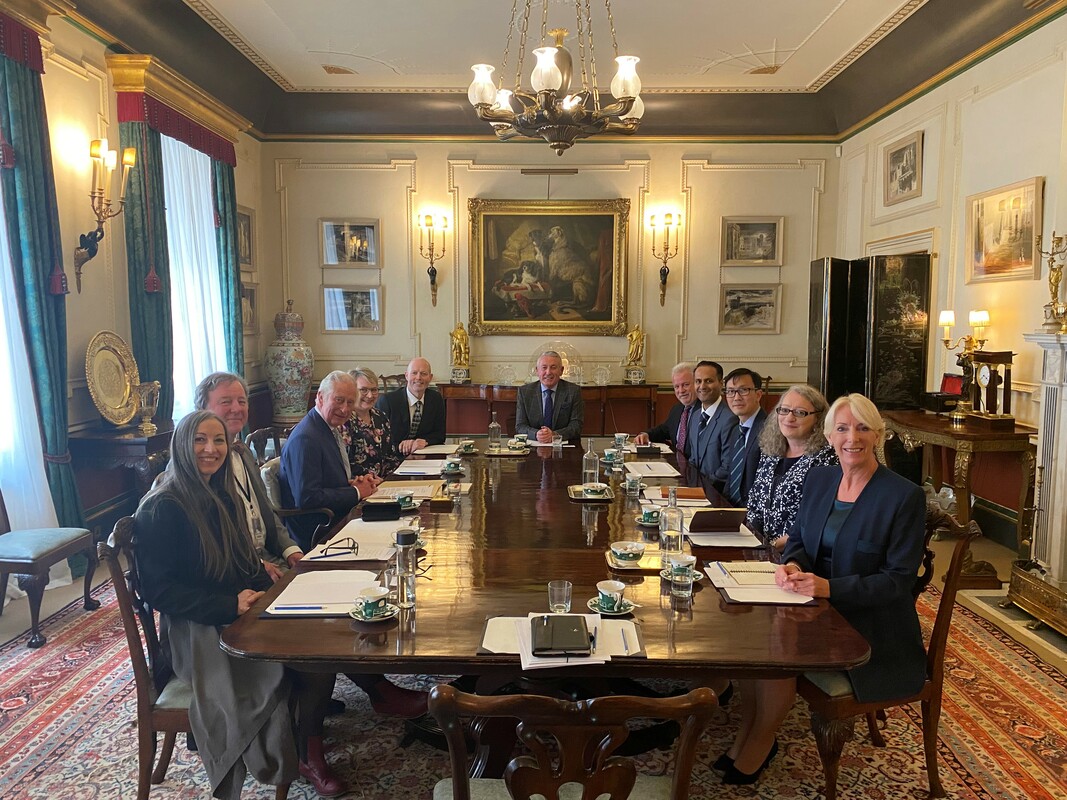 Tony Pinkus, MFHom and owner of Ainsworths Homoeopathic Pharmacy joins members of the IMA at a meeting with HRH Prince of Wales
On Wednesday, 4th May HRH Prince of Wales, Faculty Patron received representatives from the Integrated Medicine Alliance (IMA) including Tony Pinkus, MFHom. Tony is a member of Faculty Council and owner of Ainsworths Homoeopathic Pharmacy. Ainsworths has held Royal Warrants of Appointment to; HM The Queen, HM The Queen Mother since 1980 and HRH The Prince of Wales since 1989.
The IMA is a group of organisations that have been brought together for the purpose of encouraging and optimising the best use of complementary therapies alongside conventional healthcare for patients and clinicians, the IMA is looking to benefit the public with CAM methods, reduce unnecessary drug prescribing, expand social prescribing, benefit patients' health and support patient empowerment.
In his speech for the IHC, Dr Michael Dixon said "for too many years, the complementary community has been too divided and behaved like tribes, which are all too common place in orthodox medicine and so many other walks of life. Today is the official birth of the Integrated Medicine Alliance. This is a coming together of inspiring leaders covering all the main complementary modalities."
He said: "Integrated medicine is so much about what people can do for themselves and each other, and their communities both in healing and in enabling people and communities to be more resilient. It allows GPs to apply art and science, to use the power of compassionate relationships and the influence of mind and body in healing."
Amongst this influential group were Steve Jamieson, Chief Executive Officer and General Secretary at Royal College of Podiatry, Mike Cummings, Medical Director of the British Medical Acupuncture Society (BMAS), Michael Dixon, a GP and National Clinical Lead for Social Prescription (NHS England), as well as being Chairman of the College of Medicine and Monica Price, Broadcaster, Chief Executive Officer - The Federation of Holistic Therapists (FHT).
All those in attendance: Dr Michael Dixon (College of Medicine), Dr Naveed Akhtar (College of Medicine), Dr Toh Wong (College of Medicine), Monica Price (FHT), Amanda King (College of Medicine), Mike Cummings (BMAS), Tony Pinkus (Faculty of Homeopathy), Tracey Smith (Association of Reflexologists), Steve Jamieson (RCPod), and Cristiana Sanna (ANP).

Watch Tony talking below about Homeopathy
from a series of IMA videos