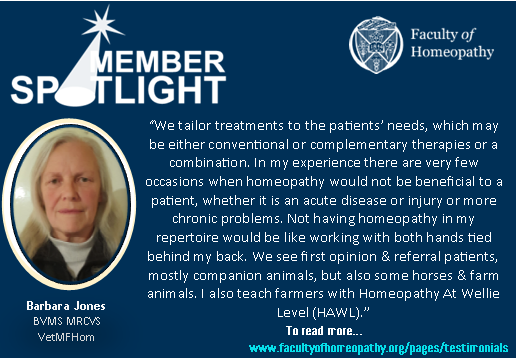 Barbara Jones
BVMS MRCVS VetMFHom
How did you start your journey in Homeopathy?
At Glasgow University in the 1970's I attended a lecture by George McLeod - the seed of homeopathy was planted. In 1979 a local pharmacist Huw Edwards suggested homeopathy to treat parvovirus, a new disease rife in dogs and defying conventional treatment with encouraging results. In 1986 Huw advised homeopathy for my 6-month-old daughter suffering from eczema and side-effects of conventional drugs. I saw overnight cure (which has lasted 36 years) and knew I had to learn more. At a veterinary homeopathy conference months later, I joined a group of vets and doctors dedicated to this intriguing system of medicine.
How do you integrate Homeopathy into your Practice?
After studying at the Royal London Homeopathic Hospital and achieving Veterinary Membership of the Faculty of Homeopathy in 1992, I set up Oakwood Veterinary Centre in 1994, integrating conventional diagnostics and treatments with complementary therapies, mostly homeopathy, but also acupuncture, herbs and nutrition. We tailor treatments to the patients' needs, which may be either conventional or complementary therapies or a combination. In my experience there are very few occasions when homeopathy would not be beneficial to a patient, whether it is an acute disease or injury or more chronic problems. Not having homeopathy in my repertoire would be like working with both hands tied behind my back. We see first opinion and referral patients, mostly companion animals, but also some horses and farm animals. I also teach farmers with Homeopathy At Wellie Level (HAWL) and support them afterwards through HAWL on farm study groups and Whole Health Agriculture.
Tell us about your own experience with Homeopathy