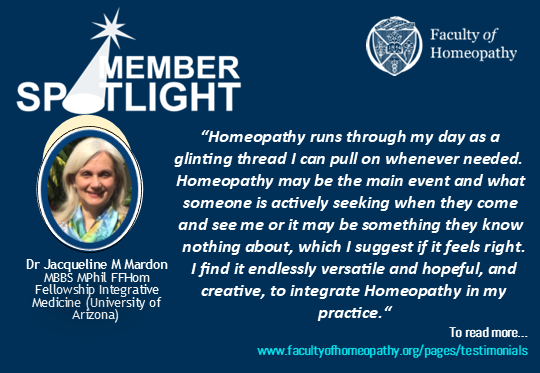 Dr Jacqueline M Mardon MBBS MPhil FFHom Fellowship Integrative Medicine (University of Arizona)
How did you start your journey in Homeopathy?
I started with Homeopathy at my grandmother's knee – she had brought her remedies from America to the Scottish Highlands. They were family first aid, When I was later a doctor, I developed interest as I found Belladonna wonderful for my sore throat and fever. I took the offer and enjoyed a short locum at the former Royal London Homeopathic Hospital. I did start reading about homeopathy then. Later, life took me to Glasgow and, with a young family experiencing fevers and colic, I started sitting in with Dr Bob Leckridge in clinics at Glasgow Homeopathic Hospital, and studying for MFHom.
How do you integrate Homeopathy into yoiur Practice?
I am very fortunate. I practice at NHS Centre for Integrative Care (formerly Glasgow Homeopathic Hospital) and Homeopathy is part of my days. I see people in Integrative Care clinics and use an Integrative Medicine approach which has Homeopathy at the centre, with other skills and practices I have developed alongside. I see people with long term conditions and complex multi-morbidity who are often deeply suffering and in distress. Other times I may see a child with hay fever or eczema, or a woman with menopause. Homeopathy runs through my day as a glinting thread I can pull on whenever needed. Homeopathy may be the main event and what someone is actively seeking when they come and see me or it may be something they know nothing about, which I suggest if it feels right. I find it endlessly versatile and hopeful, and creative, to integrate Homeopathy in my practice.

Tell us about your own experience with Homeopathy